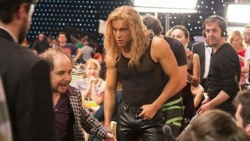 Spanish Movie Night:

Mi gran noche / My big night



Tuesday

7th August, 6:00 pm, at Southern Cross Bar and Restaurant
A TV network's annual black-tie New Year's Eve spectacular has already been in production for a gruelling week and a half, and setbacks continue to accumulate. A falling crane has just taken out an extra, and the show's hosts are at each other's throats. Pop sensation Adán discovers he's been duped by a thief, while legendary divo Alphonso is stalked by a disgruntled would-be songwriter. Will everything come together in the end?

Join us in the Guest Room for this movie from 6pm. Movie starts 6:15pm.

Entry: $5 donation for non-members, Free for Club members.